We sense the import of the events of the last nineteen months, we know something has changed, that much hangs in the balance. There is one reality, one explanation, that if true, eclipses all others issues and data points; not just because it includes and explains all the others but because it directly impacts our present and future.
Stated simply, the United States underwent a color revolution in 2020, the final phase (crescendo) was completed on January 6th,2021. The methodology was executed almost textbook-like, it included all of the elements. It was also more advanced and complex than any other color revolution operation. It involved a whole-of-government approach in concert with political parties, the media, and other institutions. All of the chaos, crisis, lawfare, deception, all of it supported the effort. (see an explanation of color revolutions here)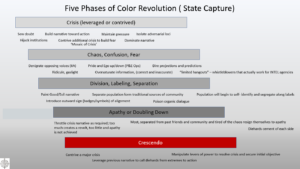 There are numerous implications generated by the claims above. Even if one can follow the methodology and template events and actions onto the model and see it present, it is hard to fathom how it could encompass not just the United States, but involve much of the world. This seems incomprehensible, impossible. Even if one can accept and see that the media played a pivotal role, it is hard to accept they did so willingly. The degree of coordination that would take, logically we assume that is not possible.
And yet, the explanation fits. The methodology is clearly present to the observer that is honest and objective.
There is one key difference between our color revolution and those the US has supported in other places. It appears the goal here was not to replace a regime but to replace the system of government with one that looks and sounds the same but is ultimately very different. Some claim the world will never go back to how it was, but few consider that it never can once this is complete. There will be no ability to simply vote it all back because foundational things will change, safeguards will have disappeared and our conception of law and liberty will change. It is much more than just COVID going on. All of the coincidences, chaos, crisis, the deception (left and right) all of it built toward state capture.
Few have written or talked of this phenomenon, not the totality of it, not the methodology and fewer still have used the terminology to define it. Darren Beattie, of Revolver News, perhaps became the most famous last year, but he began talking about it months after others. And here is the thing, Beattie uses the term to claim it was simply an effort to get rid of Trump. This line of reasoning ignores a couple of enormous difficulties, facts. This took a whole-of-government approach firstly, and secondly, it required the implementation of policies that enabled the mosaic of crisis. It took the President and the support of both parties to make this happen. Trump did the things that enabled this, whether one wants to argue that he was duped or part of it, I will leave to others to decide. I can only state as fact that the color revolution could not have occurred without Trump. Beattie is wrong, intentionally or unintentionally I do not know.
What Beattie gets right is to point out the history of FBI and other National Security apparatus (NATSEC) involvement in a number of various plots and schemes they themselves uncover. Often the plots would never gain any steam if the FBI was not pushing, plotting, and planning the event. 
The primary difficulty of most to grasp the above is the scope and scale of it all, by implication, this effort had to reach into many offices, public and private. It did. But it did not have to involve everyone, and not even those involved had to know much more than what they needed to. Undoubtedly, there were internal information operations aimed just at keeping key people on task and on the talking points. It is not difficult to do that, particularly considering the incestuous nature of the beltway.
It is not even difficult, if one is honest, to understand the global nature of this. The World Economic Forum has not made a secret of its goals, goals presented to most of the world's leaders, goals that seem to be progressing very nicely over the last year and a half.
The methodology compared to what has happened is easy to see. Objections based upon normalization bias are easy to overcome. The only question remains; what is to be done.
What to Do in the Consolidation Phase
If you pay attention, you cannot help but wonder, "How did Alex Jones know all this, years ago"? The guy went from being a joke in 2019 to a Nostradamus in 2021. But how?
The most logical answer is, he is part of it, he is playing a role. The old joke that if YouTube kicks you off you should build your own, Jones did just that. It seems comical, but ponder that. How did he know, almost step-by-step what was going to happen, how did he build a video platform that supports millions of views? The best lies have a lot of truth in them, you attract people with the truth and lead them astray with the lie.
Jones is not alone, not by a long shot. Q, BLM, ANTIFA, MAGA all have their lesser deities, folks like Jones. All of those have elements that indicate they were run as disinformation and PSYOP operations. People that know and say things, people that gain trust; many of these are not what they seem. You can, for instance, find many of the same voices that boosted Q and other obvious PSYOPs still active and drawing audiences, now boosting new influencers. To what end? The people that were ultimately behind Q (it was not a pig farmer at the top) did not just go away, that was state-actor level skills.
In a time of crisis, people seek answers and they seek heroes, they want hope. It is that desire and that promise that resulted in January 6th and provided those that want total control the pretext to begin the steps necessary to remove the possibility of resistance.
January 6th was not enough. It was not kinetic enough. It is absurd that they have people locked in solitary confinement for trespassing and ordinary people know that. Reasonable people see that. It was not big enough to be their Reichstag fire. They need another event.
Many influential voices are building toward that now. Jones will state on each show "humanity is doomed, but you can stop them if you act". Others speak more subtly, but it is there to see. "We must act". Many such voices are saying this now, almost in concert.
Unless they are actually working for the other side (and by that, I do not mean the political divide – and many seem to be compromised DISINFO agents) many making this call fail to realize the scope of the threat. They do not realize that we are in the consolidation phase and the oligarchy wants an overreaction. They want the pretext.
Historically, no nation has ever escaped a color revolution in the consolidation phase. This was the most advanced color revolution to date. Those are facts. These things can be and have been thrown off, but it takes years. The best advice we can seek is to look for new heroes, vet them better, and act only at a time and in ways that do not actually tighten out bonds.
---