Optimism, Grit, and Happiness in Hard Times
https://twitter.com/yoman4517/status/1335997668410204163
Some facts about our world that can both be mutually exclusive, each can be true:
◊ Things can be bad, life can be hard.
---
◊ Humans are often foolish and silly.
---
◊ Society and its opinions do not matter.
---
◊ The body can be hurt, imprisoned, or killed.
---
♦ God is in control
◊ Life is a precious blessing and is worth living.
---
◊ People are the creation of God in his image.
---
◊ The individual in society does matter.
---
◊ You own your will, integrity, spirit, and soul.
---
♦ We live in the world, we have free-will and responsibility
Look back across all of known history, you will see peoples invaded, impoverished, plagued with diseases, enslaved, and subjected to all manner of hardship. Read the Book of Job and empathize with his trials and suffering. Undoubtedly there are examples of entire people that essentially gave up in hard times, perhaps we have few records of such people as their own cowardice ensured they were forgotten. However, what we see, across time and cultures is that humans live, thrive, raise families, and struggle on even through the most difficult of times. Art does not cease to be produced, children are born, people fall in love, grieve the loss of elders when they die, work, play, and live - always. If this were not so, we simply would not be here today.
Even if you take two particularly egregious historical moments, the Trail of Tears and the Holocaust you find stories of love, hope, and life, even when it was dire and hope was forlorn.
Throughout history, humans have lived their lives, even under austere circumstances.
In 2020 we look around and wonder, what comes next. Even those disinclined to see conspiracy theories about government overreach and control as valid now look around and wonder just how far this all could go. Can we trust elections, can we trust the government to maintain order and justice, can we trust our neighbors? These are not unreasonable questions or concerns.
Read and re-read the Book of Job
A young person in high school or college might wonder what is in it for them, what does their future really look like. It might be easy to look around and wonder what is the point. They see a world where they cannot freely express their ideas, where social norms and social circles will quickly turn on them if they do not signal the right virtues. They wonder what will be left to them in a system that is willing to take on historical amounts of debt that can never be repaid. They must wonder if the generations in power now and those just a few years older than them calling for more radical and extreme measures are not condemning them and their future children to poverty, chains, and unhappiness.  (the chains and poverty piece might be true, but happiness is the sole right of each individual, no matter the circumstance.
Facts:
Our metaphysical reality consists of the physical and spiritual realms
God is real
In 2020, something is happening, things are about to change (one way or the other)
The only thing you actually own is your integrity, you spirit, your soul, and your free-will
Life has meaning, everything has meaning, the moment has meaning, the future also
Imagine for a moment if even the most outrageous conspiracy theories are true. Imagine if this is the 'end of history' and our future. If you have read the fictional stories below, imagine for a moment that we are headed for the middle of all that dystopian nightmare - what does it mean for you?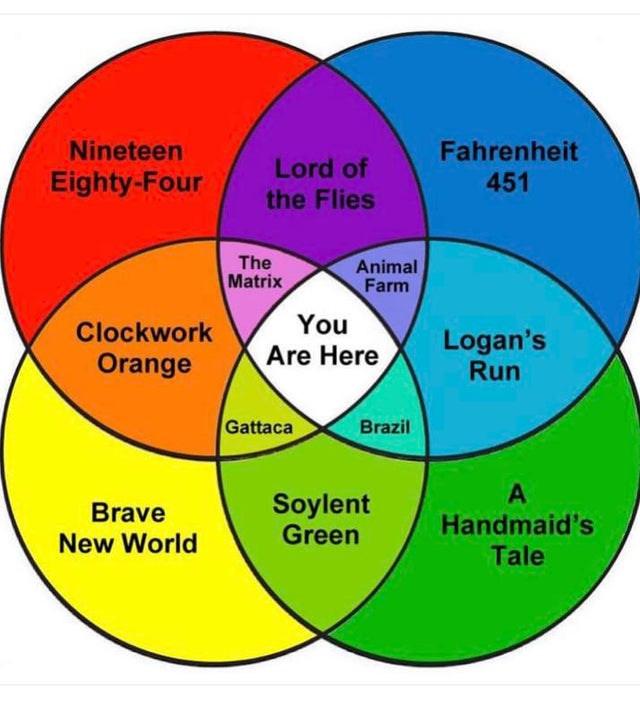 It simply means that is your lot in life.
But you do not give up. You do not say it does not matter and you ought not to try. It does not mean that you just resign it all to God and take no action. It does not mean becoming hypnotized by the drama, minutia, and 'entertainment' they offer you to keep you passive.
You must live, love, find things to be happy about, be engaged in important things. You must stand on truth and play your part.
You will not understand everything in a world filled with deception but you can understand that real truth exists.
Question everything
Think logically
Ground yourself on truth
Walk your own path
Be vigilant
Use discernment
Use your talents, take action and live life
Trust God
Have I not commanded you? Be strong and courageous. Do not be frightened, and do not be dismayed, for the Lord your God is with you wherever you go. - Joshua 1:9
Last thing: love people but never be afraid to speak truth, to rebuke magnificently as C.S. Lewis said. Particularly those that pervert real truth to fit the needs of the world (social gospel preachers).
Keep your chin up, be who God created you to be, seek truth, and speak truth.
Maybe do it a bit kinder than me...
(video of guy actually describing me)