I have noticed some friends throwing about the idea that perhaps one or more of the Democratic candidates would be tolerable, even acceptable perhaps. I have heard Biden, Gabbard and Klobuchar mentioned in this regard. I have only one acquaintance that I know of that supports Sanders (and would conceivably be open to Warren). I will not discuss those two, their ideas are disastrous, anyone that doubts that could care less what I say.
I get that many folks are disgusted by Trump. I will discuss him at the end of this post. But first to these 'tolerable, perhaps even acceptable' Democrats.
If you are a Christian and a Conservative, and at this juncture of the cultural war, I cannot imagine that you can be the first without also being the second, then you must oppose abortion. I cannot imagine how a professing Christian could support that. As a realist you probably acknowledge it is here to stay for the time being in one form or another, but, a Christion metaphysical realist view of the world, and a plain understanding of the Word simply must inform you that it is wrong. So where are these 'almost acceptable' Democrats on the issue?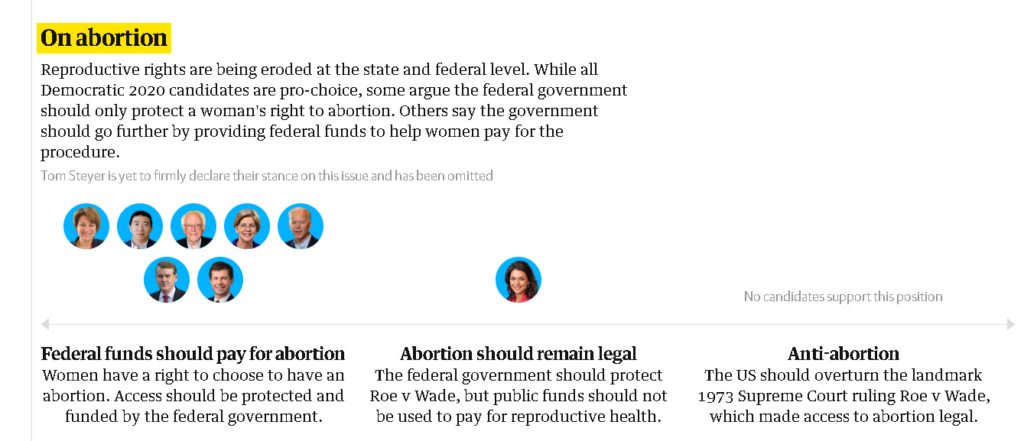 Klobuchar and Biden would use your tax dollars to provide abortions, making you even more complicit in murder. Gabbard would simply maintain the status quo, meaning any judges she appointed would solidify the state of the law as it stands. Not acceptable to any Christian.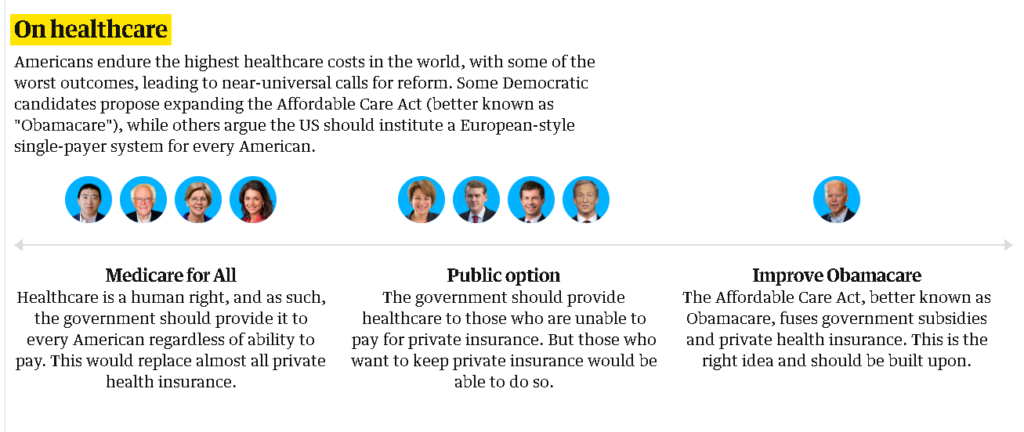 On healthcare, all of the candidates would place us further down the track toward a socialized healthcare system. Gabbard is with the hardcore socialist, Klobuchar proposes something less drastic and Biden is interested in saving his legacy by 'fixing' the broken Obamacare. I understand that healthcare expenses are troublesome. I get people 'feel' as if the government ought to do something. Austrian economics indicates it is all broken because the government did too much of something in the first place with Medicare, Medicaid and monkeying with price controls in pharmaceuticals. More government intervention never solves the problem of government intervention. Go study the British economy in WWII and the effects of intervention that still exist there today. Good intentions, terrible ideas.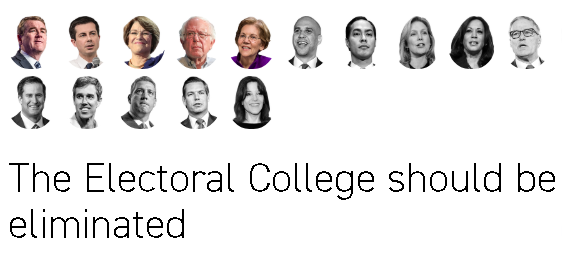 If you want to talk about completely failing to understand the nature of our Republic and original intent, consider the above. If this occurs, major cities and metropolitan areas will forever lord over and rule all the rest of the country. That was never the intent, and it would be a horrible outcome. The Framers understood the importance of place and community. This would be tryanny for the minority.
Lastly – none of these great ideas (let's be honest based upon humanist idealism) are fully disclosed. By that I mean, a public choice economics analysis would demand a full accounting of the costs of the various (and massive) programs that the entire group above advocate for in one way or another. Such disclosure is lacking. Greats 'idea' but these all violate a principle we ought to hold dear – the government is not God and government is pretty poor at actually solving problems and generally only makes them worse.
So?
If you are a Christian, the first point above ought to be enough to stop the notion of entertaining any of these people. If you are a conservative and an American of a traditional mind, the second two cements the deal. It is not even a question.
But Trump you say.
Yes, he is ill-mannered, often embarrassing, sometimes spastic in his actions and likely someone none of us would invite him to dinner.
However, he is a pretty good speed-bump to slow further damage until maybe, perhaps, hopefully, and prayerfully, we find a way to coalesce around something solid.
He did appoint a couple of OK supreme court justices – not perfect, but not two more RBG types either. When he gets another chance he will likely nominate Amy Coney Barrett, that would be a pretty good win all by itself.
His speech at the National Right to Life March was the best of his career and sounded sincere. He has done nothing while in office to make it seem disingenuous and has taken steps to act out on his words.
He has taken steps to support Religious Liberty, as Christianity enters a minority phase, RL will become increasingly important.
His foreign policy appears spastic, but at times it has demonstrated the touch of realist genius. It is certainly no worse than what we generally see in this regard.
I can already hear your next argument. I am suggesting one hold their nose and vote for the lesser of all these evils. Yes, yes I am. Do you remember how much damage Bill Clinton did to the culture? DODT, etc. What about Obama? Surely you remember all the cultural foundations that were eradicated in his two terms. Neither of those guys held any of the views expressed by the above so openly. Yet, look at their wake.
There is no choice. Hold your nose and vote for Trump. Or Vote for one of the above, and carry the moral cost or don't vote at all and allow your failure to do what we must be your shame and burden. Not even a choice.
I do not like this any more than you do. I suppose we could get it over and all vote Bernie, you know just burn the house down all at once – voting for one of the other Democrats is really just burning it room by room. But hey, if you want to give up they why not just feel the Bern all at once?
If we want to fix this long term, we need to figure out a way to break the establishment GOP and find a way to elect Americans of principles that respect people, property and tradition.
Love y'all, mean it.