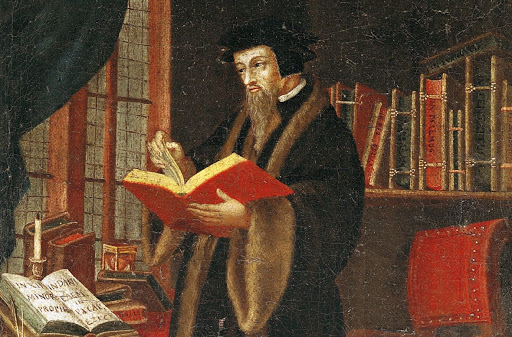 Traditions are important, God gave us the family, traditions passed from father to son is a critical part of social continuity (his gift to us). My family left Jura, Scotland in the early 1700s. I am who I am.
---
Does Calvinism hold more memories than promises? I suggest it is not a mere memory. Reactionary Calvinism, based upon the traditions and the truths from which those traditions derive is the key to solving our religious decline in the culture and to address our difficulty in defining what authentic conservatism ought to look like in the public square. The megachurch will not do it, dead Christianity will not, hopes placed in feckless and foundationless political parties will not. A return to the traditional principles and courageousness of our Calvinist roots might - God willing.
Jarod Longshore recently opined, "[a] cowardly Calvinist is an illogical thing. I don't say that it is a thing that does not exist. Sadly, regrettably, shockingly, it does exist. But it shouldn't." Read his entire post.
We need a renewal of a sparse, sincere rebellion - against sin, against the compromise of the glory of God, against the status quo, against the 'wisdom' of the world and against the absurdity that is all around us. Confident, courageous and certain that the Word of God is our life, guide, and answer to the needs of this world. Our difficulties in the culture and our fecklessness in politics are the results of many things; true. However, if there is any hope to fix it we need to consider the words of Paul, as he departed the Ephesian elders:
18 And when they came to him, he said to them: "You yourselves know how I lived among you the whole time from the first day that I set foot in Asia, 19 serving the Lord with all humility and with tears and with trials that happened to me through the plots of the Jews; 20 how I did not shrink from declaring to you anything that was profitable, and teaching you in public and from house to house, 21 testifying both to Jews and to Greeks of repentance toward God and of faith in our Lord Jesus Christ. 22 And now, behold, I am going to Jerusalem, constrained by the Spirit, not knowing what will happen to me there, 23 except that the Holy Spirit testifies to me in every city that imprisonment and afflictions await me. 24 But I do not account my life of any value nor as precious to myself, if only I may finish my course and the ministry that I received from the Lord Jesus, to testify to the gospel of the grace of God. 25 And now, behold, I know that none of you among whom I have gone about proclaiming the kingdom will see my face again. 26 Therefore I testify to you this day that I am innocent of the blood of all, 27 for I did not shrink from declaring to you the whole counsel of God. 28 Pay careful attention to yourselves and to all the flock, in which the Holy Spirit has made you overseers, to care for the church of God, which he obtained with his own blood. 29 I know that after my departure fierce wolves will come in among you, not sparing the flock; 30 and from among your own selves will arise men speaking twisted things, to draw away the disciples after them. 31 Therefore be alert, remembering that for three years I did not cease night or day to admonish every one with tears. 32 And now I commend you to God and to the word of his grace, which is able to build you up and to give you the inheritance among all those who are sanctified.

Acts 20 (ESV)
Robert Godfrey spoke to this issue at the Reformed Bible College. Highlights from the talk in the video below include: Christianity no longer has the influence on the culture it once had; however, Christianity is not in decline; God is at work in the world; Americans are often fixed within; Catholicism abandoned tradition; Evangelicalism no better off. American needs a return to Courageous Calvinism.
♦ Confident
♦ Christ-centered
♦ Comprehensive
♦ Coherent
♦ Caring
What does this have to do with paleoconservative, or traditional conservatism - that thing way on the fringe that sees the Republican party and mainstream 'conservatives' as useful idiots in the progressive agenda? Everything!
I think CJay Engel suggested recently in an article I cannot locate that at every step of the progressive advance, mainstream conservatives have been just a step behind, building nice roads and structures to support what the progressives have done. What we have come to know as 'conservatism' in America, the talking heads, the pundits, the massive organizations and think tanks; all of these are tragically flawed. None of them look back and ask real questions about what went wrong, what policies and programs have been adopted, no matter how long ago, that are damaging to culture, tradition, and families that we might actually fight to repeal. Their fight has been about the day to day, small things, rudderless and foundationless notions. They continually lose because they abandoned the foundations of conservatism.
If we are to save America, and perhaps this is not within God's plan, we have but a duty to try, it will never happen with the current leadership, ideas, and programs of ordinary politics. There is little left of what was, nothing much left of the good. What are we conserving? Look about, it has almost all been burnt down.
In these times, our calling is to become courageous. Protestant Christianity was a permanent thing of American culture, we simply do not exist as Americans without that influence. Reformed Protestantism was the foundation of that Christianity.
However, we need to come to terms with the flaws of Protestantism. The spirit of independence and rebellion is sinful. Catholics that hold to authentic Christianity and the traditions of their church know some things we have forgotten. (natural law, subsidiarity, and metaphysics to name just three). Traditions passed from father to son are important (I hold that as a first principle), but there is much we might all learn from each other (those that truly follow the narrow path) We all have a mess to clean up in our various traditions.
It is perhaps time to stop calling ourselves conservatives, there is little left to conserve, and instead become courageous, radical reformists and reactionaries against the staus quo. We need to stop fighting the ridiculous daily battles of red/blue politics and stand and say "all of this, all of these programs, ideas, trends, policies and this direction is wrong, we want to restore was was good and true of tradition." We need to stop entertaining the notion of further compromise, in our denominations (looking at you SBC with your current fight over complementarianism) and in the public square. As Godfrey says above, Confident, Christ-centered, Comprehensive, Coherent, Caring; Courageous.
Only God knows if this is a fight we are supposed to win, but just as Paul knew certain death awaited him as he departed Ephesus, he did his duty, he spoke the truth, all else was in God's hands and plan.
I cannot and will not recant anything, for to go against conscience is neither right nor safe. Here I stand, I can do no other, so help me God. Amen. -Luther