Saturday update for 15 August 2020.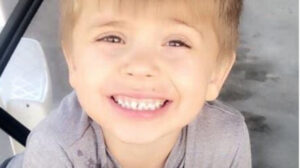 A five-year-old boy, riding his bike in front of his house is the definition of innocence. Throughout history, almost all cultures have recognized this. The media may portray this jut as a boy fatally shot.

But it is much more than that. We could talk about how different the outcry and reaction would be if this were a black child, shot at close range in the head by a white neighbor. That would be playing into the same racialist narrative that infects so much of the dialogue today.
Cannon was an innocent, in the eyes of God his life mattered and he was innocent of all sin. We do not know what he would have grown up to be. He may have become a drug-addicted, lifetime criminal, a man that abused women, abandoned his children, and might someday die on a street after committing more crimes and struggling with police.
He may have become a saint, or he may have just become an ordinary imperfect man like the rest of us. But he was innocent and his life mattered.
Some will argue that perhaps Darius Sessoms, the man that shot Cannon in the head from close range, was an anomaly, that this is not indicative of the world. That we cannot place blame on an entire class of people because of his actions. I agree with that. We cannot condemn all 25-year-old black men as child murderers. It would be insane to classify an entire class of people as evil!
Some of the same people that would make that argument support groups that want to vilify and attack the police, all of them, as one large homogenous group of evil-doers. Some still would tell us that all white people enjoy white privilege and play a part in 'systemic racism'.  Because they have read, sat in a lecture, or saw some videos on the subject, they might even place me in a category of deniers because I do not even recognize my own 'white fragility'.
There is some hard truth that we need to come to terms with.
All of this hatred and racism that has spread like a real pandemic since George Floyd died on a street (before then really, perhaps back to Michael Brown robbing a store and wrestling for a police officers gun) played a significant role in the death of Cannon Hinnant. I can hear all of the counter-arguments, but on a basic, foundational level, that is absolutely true.
We can say that we 'love' people and want to see justice. But a parent that loves their child does not allow them to do absurd or dangerous things just because the child is upset. A friend does not stand idly by and supports a friend doing immoral things just because their friend feels wronged. Real love comes with other attributes. Real love looks at the total cost and the total benefit of a thing and measures it all against a backdrop of other principles. Real love is not blind support of anything that makes someone appear to feel better.
From the first day that churches, pastors and people that believe they operate from a position of goodwill began posting memes, making arguments, endeavoring to convince others and signaling their support for BLM and the protests (often ignoring the hateful words and violence) I have repeated over and over - this is all wrong.
Black Lives Matter as a concept is correct because all lives matter and we should seek justice. BLM as an organization is horrible. It is impossible to separate the broad concept from the organization and the hate and violence it engenders. People of goodwill and moral principles should have avoided this from the beginning.
There have been more murders beyond Cannon; many more. Some media outlets claim that 'crime has not increased', in an effort to gaslight those that see all of this in its true nature. Many are deceived by such claims, no matter how easily debunked they are.
BLM and the protests, burning, violence, riots, and mayhem have unleashed a general spirit of violence and lawlessness. This has manifested most in the cities and communities with a predominately black population. Those that support BLM had in effect subjected to many black Americans to more poverty, violence, and suffering.
This all has been and is immoral. It is wrong. Those that supported it from a position of  "goodwill" of a concept of Biblical Love that excluded all the other principles in the Bible have been and are wrong.
If this applies to you, you need to repent of your sin and search your soul to figure out what in your life made you so susceptible to a lie of the world.
---
I responded to a local news article the other day that claimed a minor public figure was among other things a racist. I commented that it was a terrible article and poor journalism because they made no effort to actually support the claim that the person in question was a racist, it was just stated as fact, they had said racist things.
One of the young reporters replied to me with an article from Politico. Politico stated they had 'hundreds of hours' of video with the individual making racist statements and provided a video as an example. In the provided video there were heterodox statements, things contrary to the established narrative but nothing racist.
I replied that the delivery was 'plain', but the points were no different that things Dr. Thomas Sowell has said for years. With that, the conversation turned. I too must be a racist, or a troll, or a parody account.
It is very dangerous that ideas are so easily tossed aside and those that question anything of the popular narrative are branded with a label, a scarlet letter, and dismissed.  These are troubling developments. This is not the same a labeling someone a 'radical progressive', 'liberal', 'right-winger', etc.   This is essentially the same as calling someone a pedophile, a social pariah. (It may, in fact, be worse, there are some that now claim out loud that pedophilia is a sexual orientation)
One of the most profound statements from the Granada TV documentary on the Spanish Civil War (I highly recommend it) was, 'when each side could no longer discuss ideas, violence was inevitable'.
If most of the institutions of society (most of the media, many churches, most of the educational establishment), and many of the unthinking masses are willing to carelessly label others with stigmatic labels that equals their voice and ideas unworthy of being heard - how do you believe this all turns out?
We need to return to civil discussion and an honest usage of the English language. Racism and racist language exists on both sides of the conversation today, but on the extremes. We need to apply the term precisely, otherwise real violence awaits us all.
---
Trump claims that mail-in voting will be an open opportunity for voter fraud.
Much of the media repeatedly conflates 'mail-in' voting (mass mailing out ballots) with absentee voting (registered voters actively requesting a ballot) in an effort to dismiss Trump's claim.
Many on the left claim without funding the USPS cannot handle mail-in voting and predict chaos.
Several news articles and snippets of remarks by Democratic leaders predict chaos and even hint they believe Trump will not concede.
The NYT reported an exercise during the Obama era where a sitting president refused to concede and a constitutional crisis ensued.
Marco Rubio tells us to expect election chaos.
It seems both the Democrats and Republicans completely agree. Are they foreshadowing what is to come? Is this all a singular plan, are they really working together, some claim that? Is it perhaps that both sides see the growing divide and understand what this means (I wrote that in 2018)? Are they perhaps just building a narrative for a future claim to legitimacy/illegitimacy? We cannot know. But it seems they agree that real chaos is coming. Nothing good comes from such chaos.
A New Civil War, an aggregator of news and opinion from both sides is a good place to keep up with opinions across the spectrum. When I wrote America's Great Cultural and Political Divide in 2018 many mainstream articles on the subject at the same time dismissed the idea as preposterous, no longer is that the story.
You would be wise to get yourself and your family ready - and repent of your sins of omission and commission that helped in some way move us to this point.
---
The leaked release of police bodycam footage was something of a watershed moment for many. We now know why it was not released, or we can reasonably assume. It paints a very different picture than what was available only on the other angles of Floyd's arrest. I noticed thousands of people, folks that had argued passionately one way prior to the release of this evidence change their outlook. Some began to question why any of the subsequent violence occurred. Others pivoted away from ever mentioning Floyd and making all of this about something bigger (that is rather dishonest).
What is clear, is that none of these events, Micheal Brown, Floyd, and many others that have caused so much chaos were ever what they were portrayed as originally, and many people have come to see that as a reality now. The cases remain complex, but they are not clear-cut cases of racist cops gone wild, murdering innocent people. Honest people, folks of goodwill, willing to look at facts now know this.
ANTIFA and BLM have credibility and the narrative problem now. People wonder if burning, beating, violence, and mayhem were justified.
I will be the first 'not shocked' person when we see some major incident, perhaps even a mass killing, all made to look like (or at least reported as ) a white racist attack. The Boogaloo Bois are real, they are ready for the revolution, marching, and supporting ANTIFA and BLM and they already look like "white supremacists" - they are the perfect candidates to conduct such an operation.
---
I am not even convinced at this point the Democrats are running a serious campaign to win. If I were Joe Biden, I would keep my head down and watch those around me. Nothing would spell 'sympathy vote' more than a candidate being killed "by extremest on the other side". History is filled with that sort of stuff, 2020 is that odd.
Or, as some claim - is Trump just part of it all? He is getting things done the Democrats want that they could never do without many on the right taking to the streets. Think about it...I do not know.
---
China has checked off every action I predicted on 7 June, (those and more; I was probably wrong on the election but spot-on in terms of China and Belarus)
In the midst of election chaos, between November and January (probably late December, early January) I think it is highly likely that China will move decisively and quickly to take control of Taiwan. There is a scenario, that smart strategic planners have worked out, whereby China can accomplish just that in less than a week. It only requires a delayed and confused response from the US.
Such a move, successfully executed with minimal fighting and Taiwain capitulating early because of a delayed US response would fundamentally alter the East Asian balance of power.
Millions more will soon be subjected to the boot-heel of a genocidal regime because we in the US are too busy being absurd.
---
Finally - the entire alignment of many ancillary nations hangs in the balance right now. The proxy war Greece and Turkey have fought in Libya is more than two sides trying to fix something the US and NATO foolishly broke. The peace arrangement between Israel and the UAE has a significant meaning.
Will the Eastern Med/Middle-east, Caucus now realign based upon a new and more natural coalition or will unrelated wars prevail. Will all of this result in a comprehensive peace arrangement? (of later chapter Biblical proportions...)
All are possible. If the peace, initiative expands to the Balkans (Kosovo and Serbia) then Greece, Turkey, and resolves Syria and the Caucus (all interconnected) I will really be convinced we are in the end-times! If is is a geopolitical realignment, I will not b shocked.
I am inclined to think that spheres will simply realign. Russia has a common interest with many that we have a common interest with. We may come to view them differently in a new arrangement. Turkey and Pakistan and Qatar may be out, India in. Israel might be welcomed openly into a coalition with Saudia Arabia, UAE, and Syria. We may come to see Syria as a front in the battle against not ISIS but Iranian/Turkish and Chinese interest. The world could realign over this into the US versus China spheres based upon natural and historical affinities/animosities and the prevailing strategic goals of the primaries.