Christian Chicken and the Cultural War
Mike Church Church over at the Crusader Channel radio has been saying this for years in reference to Chick-Fil-A and the Cultural War.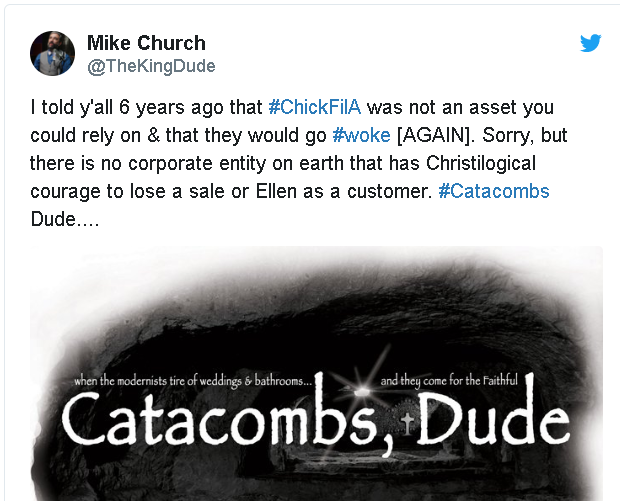 If the #3 fast-food chain, a firm that only sells sandwiches six days a week, can fall and bow a knee to pressure, what chance do smaller firms and mom and pop businesses have?
In Chick-Fil-A's kowtowing – in this case cowtowing© – to the progressive agenda they have thrown two good charities under the bus, the Fellowship of Christian Athletes and the Salvation Army. Both of these charities are now validated as bastions of hate in the mainstream because of ChickFilA's submission to authoritarian demands and lies. Unforgivable. The FCA for crying out loud!
The entire narrative has been taken over and controlled by radical progressives. There is no hope to win or even slow down the defeat of traditional American values so long as they control the words. They term disagreement as "hate", they define principles as "bigotry" and they call faith ignorance. Their ideology is based upon authoritarianism masked as equality and compassion. Their goal is nothing short of the abolition of Christianity and traditional values in America.
I will be the very first to admit, perhaps to the disgust of some conservatives, that Christian Americans got homosexuality wrong. Homosexuality is a sin, no different than adultery, murder, stealing, lying, and hypocrisy – all sins. Hang with me a moment before you click past this page. Allow me to make a point.
Christian America ought to have handled this differently a long time ago.
Homosexual marriage should never have been recognized by the government. Marriage is a social institution that has served humanity well for centuries. However, if two same-sex people created a contract of sorts, that should have been fine – so long as it was not treated as a family, no adoptions and no family status recognized by the State that is supposed to protect the social order.
If homosexuals wanted to serve in the military, that should have been fine for them to enlist. At the same time, the government should have deemed active homosexuality as moral turpitude and denied them commissions and leadership roles – the same as for anyone that has a demonstrated morality problem.
Homosexuals should have been welcomed in all churches – that is where all of us sinners belong. They ought not to be preachers or teachers if they are active in their sin, but sinners ought to be welcomed in church.
Essentially we ought to have treated homosexuals and homosexuality just like any other sin. We recognize it exists, we know you cannot legislate away sin, we simply should have said "be yourself, but these are societies standards" regarding sin and immorality.
I would argue that this was exactly how America behaved until the 1960s or so. Sure individuals and communities might have been unwilling to accept a person that practices homosexuality – that was their liberty to hold an opinion. Sure there were laws on the books prohibiting homosexuality in many places, but there were many other morality laws as well; homosexuality was not singled out. All such laws were good intentioned mistakes.
None of what I propose above would make the LQBTQ+++ crowd happy now. They would term my speech hate for merely suggesting that homosexuality is a sin. Of course, their real agenda is much broader than gay rights.
What changed beginning in the 1960s and accelerating since is the narrative of the progressives. They turned grievances over laws, laws that were similar to morality laws that applied to heterosexuals, into a political cause and then conflated that with an entire anti-values agenda. Instead of merely advocating for equal liberty for all to sin or not on matters of sexuality they created a political ideology and a story- a narrative. This narrative painted anyone that opposed the changes they wanted as hate-filled, it described the religious convictions of the opposition as bigotry.
The conservative traditionalist response to this attack was something natural. It basically took the form of "you are attacking me and everything I believe, you and everything you believe are bad". The radical progressive began the polarization of America.
None of that history, what should have been, what might have matters now. When the right opposes the LGBTQ+++ agenda they are not opposing gay people as individual children of God. No true Christian hates another person and anyone claiming to be a Christian that does hate another needs some knee-time. The LGBTQ+++ agenda itself is not just about rights for gay people, it is now wrapped up in a much bigger ideological argument. The rainbow flag and the faux arguments over homosexuality are just proxy wars for the bigger issue. Their argument ceased a long time ago to be about gay rights.
The biggest lie the radical progressive tell is that their movement is about rights, equality, and compassion. It is really about control, domination, submission, and hate for Christian values. Yet they wrap their narrative in happy flags and get a pass on their hate.
Conservatives, Christians, and traditionalists are losing the Cultural War for a few reasons. I will just address one here.
"control their language and you control the people"

George Orwell, author of 1984
We have ceded the language and the narrative to the left. They wrap their arguments in inclusion, compassion, and dignity and paint ours as narrow-minded and hateful. Any disagreement with their dogma is termed hate. We simply cannot accept that. Many are afraid to actually speak because others will think poorly of them, leaving the public space for a minority to dominate. We need to speak our convictions, to friends, to family, in social conversation when the topic comes up and in the public square. We need to speak from first principles, with respect to liberty and equality and compassion but also recognizing universal truth. The LGBTQ+++ story is easily dissected from the progressive narrative if one simply discusses the core issues. Christianity is compassion, for the individual, the family, and society. Societal order is a positive good. There is nothing at all hateful by saying something is wrong based upon firmly held convictions and long-established tradition. A thing even Marin Luther King, an icon of the left, thought was wrong and said so publicly. Shall we deem him a hater and remove his name from the streets and a holiday for it?
What is hateful and bigoted is to attack an entire centuries-old faith tradition and the people that hold that faith dear. What is abominable is the desire to control and tell others what to think and how to do business as the radical progressive movement is so apt to do. All three of the world's major religions consider homosexuality a sin, they have held this view for centuries. Are we to assume a few vocal radicals are smarter than most of the world's population for most of our history? I think not.
We need to take back the language and speak our convictions with confidence. And, in the case of a company like Chick-Fil-A, we need to vote with our wallets. They did not achieve #3 fast-food staus on those little chicken sandwiches alone, and if you are honest, they were not exceptional items in any event. They were pretty good, but there are equal options out there. They had OUR support because many believed they operated with OUR values. They quit the Cultural War when they did not have to and in doing so made life a lot harder on smaller companies that desire to operate within their conscience. Such a betrayal cannot go unpunished – this is the nature of the Cultural War.
You may say "but all of corporate America has folded, why should I deny myself a rubbery chicken sandwich". All of corporate America did not take a stand and carry the banner as a leader for traditionalism and values like ChickFilA. All of corporate America has not held itself out to you as a place to spend your money because they shared your values. Chick-Fil-A did that, and then they quit on you and us.
It is a shame, a real shame that the radical progressives have so twisted what should have been simple issues. Homosexuals should have had the same rights as any other sinner to do most of the things all sinners do. That would not have made the act right morally, no more so than any other sin that is legal, but it never had to become part of an agenda to tear down all that is traditional, moral and good about America. We should have dealt with that issue as Americans and skipped all this polarization.
The Cultural War is the very subject of my latest book, The Philosophy of Commonsense: A Cultural War Primer. It addresses questions such as what are the basis of traditional American values, where does ultimate truth come from, why the cultural war matters and what are the ramifications for the future?
In my own personal life, I have known and even been friends with many homosexuals. Like most Christians I treated them just like every other sinner I come across, which is everyone I meet including me. In the Army I had a Soldier come to my First Sergeant and say they wanted to "come out". This was back during "don't ask, don't tell". I told my First Sergeant to go back to them and tell them I did not want them to tell me anything of the sort – I and everyone already knew anyway, it was no secret. They were a good Soldier. I had porn addicts, prostitute visitors, adulters and brawlers in my company – sinners all. Why would I let this person tell me something I would have to act on. That is the sort of example, not unique to me, that the radical progressives do not want to hear. They would rather call me a hater because I think it is a sin than realize I have treated all people the same, regardless. I am not alone. Yet their brush paints us all as narrow-minded bigots.
They made this a "Us versus Them" fight and Chick-Fil-A just picked the wrong side.
As Rod Dreher wrote in a piece for The American Conservative:
Symbolically, this is a big deal for those who hold to what Christianity, Judaism, and Islam traditionally teach about homosexuality and related phenomena. It sends the signal that resistance is futile. If even Chick-fil-A — the company that takes its Christian values so seriously that it closes on Sunday, and despite that revenue loss, was still able to become the third-biggest fast food franchise in America — if even Chick-fil-A capitulates to the illiberal demands of LGBT activists, then what chance do you have in professional life, you and your religion, despised by power elites?