America's Civil War will begin as an Insurgency
We hear the rumblings daily, from mainstream outlets now. There is even a news and opinion aggregator that tracks articles written about America's next (new/ongoing/upcoming) civil war.
In a very real and profound sense, America is nowhere near civil war. No more than the war in 1861-1865 was an actual civil war. America is in the final stages of a proto-insurgency (an insurrection). We are close to teetering into an open phase I insurgency, but not a civil war, not yet.
Mine is not a mere argument of semantics, this is not word-play. It is entirely possible that America could enter a civil war, but not yet.
The following is the US Government official description of some key indicators or a proto-insurgency moving to a phase one insurgency (Incipient Conflict Stage) (from Guide to the Analysis of Insurgency 2012, USG pp 10-11)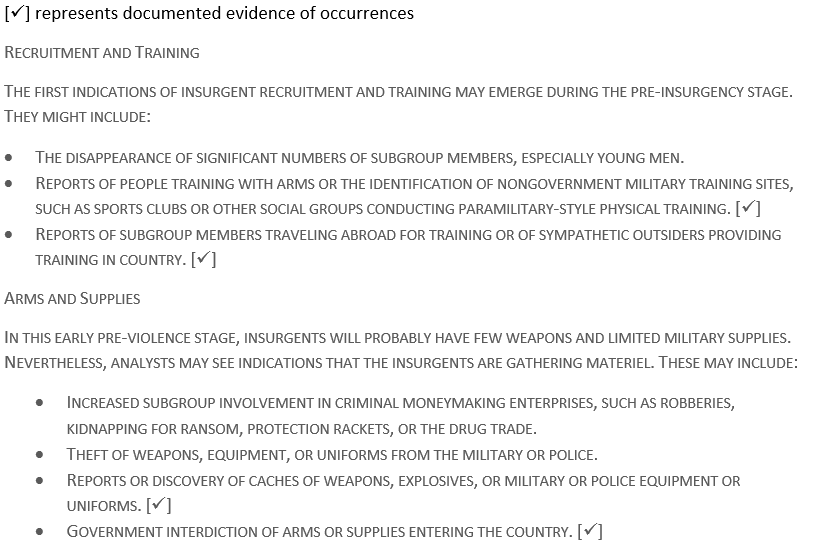 I wrote back in 2018, that America was more divided than at any point since 1850. I even indicated that I believed we crossed the line into a bloody Kansas phase after the shooting of Republican congressmen in 2017. I used 'civil war' language and analogies. I stand by the analogies; I do not even believe that the folks currently claiming that we are headed for such an event are wrong entirely. However, some things have changed, the polarization in America has not been even on each side. One side still believes that the system can work, that voting will work. The most radical on the other side no longer believe this.
Seldom does real and honest dialogue occur across the poles at this point. However, last Saturday I watched a fascinating interview between two such people. They talked about issues, philosophy, they were respectful and dialogued. However, in the end, the individual representing the radical elements asked the following; "What do you do when you cannot vote yourself our of your people being murdered by the government on the street?"
You may disagree that this question is based upon reality, but whether you agree or not is irrelevant. A growing minority believes this; they feel this way, this is their reality.
COL Robert Jones designed a methodology in 2012 [link] that further illuminates what gives rise to an insurgency. He outlines four factors:
Illegitimacy (a growing minority views the government as illegitimate)
Injustice (they see injustice done toward their group)
Disrespect (they perceive disrespect from the 'system')
Hopelessness (they have lost hope in changing the system via the normal rules)
We can see all four factors present in the BLM movement. These same views are also present in ANTIFA and other ideological groups. Many have simply given up on changing the system from within.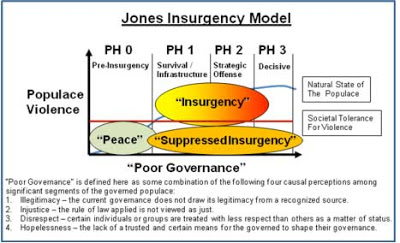 Lastly, in Jones' model, we have seen an increased societal tolerance for violence. As this tolerance increases and the other indicators of a growing insurgency increase, a nation-state inevitably transitions to an Incipient Conflict Stage.
There are two primary reasons that this will likely not develop initially as a civil war.
The State (in general) is still capable of acting in unison to oppose an open insurrection.
Despite media reports claiming otherwise, there is no real organized counter-radical organization(s).
There are numerous scenarios by which the solidity of the state could be threatened. It would not take a long period of time for a counter-force to rise to face the insurgents. All of this could become civil war-like, but it is not a forgone conclusion.
There is one additional point to consider. It is highly likely that The United States has been undergoing a color revolution, culminating in 2020. (see definition of color revolutions) The very nature of a color revolution is to sew chaos and violence before the crescendo, those that foment these activities attempt to usurp elements of the institution of the state. Our system of federalism makes this easier in some ways that in unitary executive nations. We have already seen signs in 2020 that some jurisdictions have indeed been turned. It is possible that if the color revolution fails, the damage of division and usurpation created to bring it about might have damaged our systems to such a degree that the state is incapable of effectively opposing an insurrection. In that case, regular people will rise to fill the void – a civil war will ensure.  That is a possible scenario.
The election matter of course, if Trump wins the insurrection kicks off much sooner, but make no mistake, even with Biden, the most radical will very quickly lose patience that even the Democratic party cannot dismantle the old fast enough. Violence comes either way.
What is likely, come sometime around November 3rd until it is resolved or put down, is that we move into an Incipient Crises phase of an insurrection. I discuss that in the video below.