God hates lies and deception.
Leading others away from truth and into lies is wrong. When prominent people do that persistently for their livelihood, creating and spreading false stories, it's called grifting and fraud. I see you. I SEE YOU!
Let me give you an example or two.
In March 2017, podcast host, Dr. Dave Janda broke a story brought to him by retired LTG Tom McInerney and Adm Ace Lyons. McInerney, until then, had been a Fox commentator.
That story of The Hammer "spying system", exploded across the Internet and was so big that it earned a place in the "Strzok-Page text" messages, during the still ongoing Trump-Russia-Hoax.
Two 'journalists', Mary Fanning and Alan Jones made their website the central depository for all things they connected to THE HAMMER story and Fanning and McInerney were soon invited to @WVWOnline, the videocast of Brannon Howse.
The story went viral.
Fanning and McInerney told "their story" many times and even published a book, in August 2020, about "The Hammer" which you can still access for only $ 4.99.  Millions upon millions of people believed because numerous podcasters repeated the tale.
Followers of the Qanon conspiracy theory, mostly ordinary Americans who know that something is not right with the direction the country is headed, latched on to the Hammer story and spread it even more. There are many similar examples of the Hammer story shared by Qanon followers on social media.
AND THEN, just before the 2020 Presidential Election, the story morphed. Fanning and McInerney told Steve Bannon and Brannon Howse that a program called SCORECARD would be used with The Hammer to change the outcome of the election so that Joe Biden would win. How could a former CIA agent turned journalist and a retired general know such a thing?
Soon Mike Lindell joined forces with Brannon Howse and Mary Fanning to "expose" the theft of the 2020 election.  The trio of them produced three full-length documentaries. Lindell staked everything on that one, still unproven, story that originated in March 2017. A story that The Conspiracy Theory Club profited from since Dave Janda released that first fake Kraken in 2017.
Lindell has set up a "Cyber Symposium" for August 10-12 and has invited anyone to disprove that the election was stolen by means of the object of the March 2017 made up story – Hammer and SCORECARD. Drawing dozens to Lindell's symposium is a $5 million carrot for anyone who can prove there was no foreign interference with the 2020 election.
There is much doubt whether Mike Lindell has irrefutable evidence of fraud that would prove, at least, that the McInerney/Fanning Hammer/SCORECARD story is true.  The concern expressed by Jeff Nyquist, is that failure to do so would inflict more damage on the wider election fraud story. Yet, Jeff himself failed to point out that it was Brannon Howse who provided cover, exposure, and technical support for Lindell's story and production of three movies. In fact, Mr. Nyquist denied that Howse had worked with Mary Fanning to broadcast the Hammer story prior to November 2020 – a fact easily refuted with a simple search of the Internet.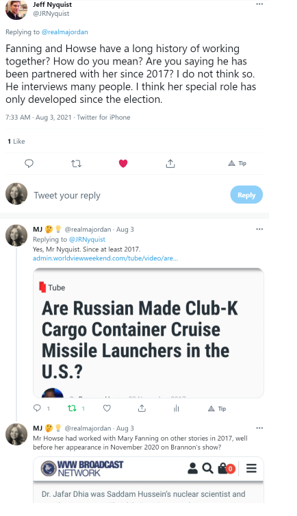 Why did Mr. Nyquist call out Brannon Howse and not Clare Lopez of Citizens Committee on National Security and Vice President for Research and Analysis with Center for Security Policy, who also used, former CIA agent, Mary Fanning as a source?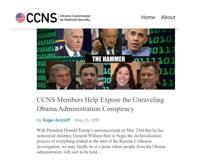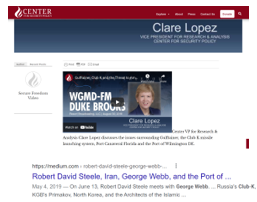 View the Battle Royale between associate club members over Club-K story.
Moving ON!
Election 2020 came, and wouldn't you know it - the election outcome was questionable. No problem - they were right! - Fanning and McInerney, again made the rounds of the "Conspiracy Theory Club" explaining what had happened.
First stop Brannon Howse https://www.worldviewweekend.com/tv/video/hammer-key-coup-general-mcinerney-and-mary-fanning
Doug Hagmann https://www.hagmannreport.com/special-guest-brannon-howse-mary-fanning-the-hammer-is-the-key-to-the-coup/
Dave Janda, Sidney Powell, Tom Fitton, Lou Dobbs  https://davejanda.com/lou-dobbs-sidney-powell-tom-fitton-on-the-hammer-scorecard/ (text only - video deleted). Janda continued to repeat the story as if repeating would make it come true. Sadly, even Janda's guests avoided pushback and refused to demand hard evidence.
Here in Janda's April 15, 2021 show, "Vote Fraud Proof Keeps Emerging As Covid Lies Unravel: Dr. Janda" is @ALEXNEWMAN_JOU just sitting there, on behalf of John Birch Society, (@jbs) apparently. As Dave Janda carries on for nearly ten minutes about how "Hammer/SCORECARD" was used to steal the election, Newman offers no resistance, asked no question, demanded no evidence. 
John B Wells picks up the story, "The Hammer Is Key To The Coup"

No less than five well-known publishers and their regular commentators have used Mary Fanning's and Lieutenant General Thomas McInerney's storyline to convince the public that somehow a known surveillance system facilitated vote-switching in the 2020 Presidential election. These publishers saturated both the "truther" movement and Qanon followers with the same unprovable information not once, but twice.
Next, we will take a closer look at Mary Cunningham Kirchhoefer (Fanning).
---
Related Articles:
Who is Mary Fanning Part I ---removed for now
Who is Mary Fanning: Part II