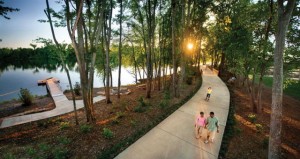 The wife, dogs and I took a stroll today, down by Riverfront, along the river and back through the Brick Pond. Here is an amazing thing. Just 150 miles to the northwest parts of Atlanta are filled with strife and burning buildings. Along our walk today we encountered dozens of people, of all ages and races. Every single one of them was friendly, looked us in the eye, and spoke (all except two 30-year-old couples that were too enthralled in a conversation about painting a kitchen to be friendly).
Our world may have many have problems, people may be mad about a lot of things, some justified and others overblown and others misunderstood, but not all of the world is the same. I wonder, what will June the 14th of 2021 look like when we take the same walk?  Will North Augusta still be a friendly, reasonable, calm, and welcoming place? Will we have succumbed to destructive passions and hateful divides? Is that inevitable?
Last week a company I do some work for called and mentioned that they heard there were some protests in downtown Augusta and asked if they should do anything about some items they have at the Cyber Center. I told them protest had been occurring every day for the last few days and that Augusta was not like places on the news, not to worry. Augusta proved me correct.
There are differences in Augusta and North Augusta, sure. They are bigger, they have more crime, more poverty, a more haggard and aggressive police force but North Augusta and Augusta are still much more alike than many places in the United States.
Last year I heard some talk here about changing our Public Safety to a police department. I said then that was foolish. People coming in with big ideas about how things were done elsewhere are sometimes dangerous. Public safety is about as close as you can come to call it a department of peace (which sounds weird, so public safety it is), i.e. peace officers with guns. That is the sort of place we ought to want to live in, one where people smile and say hello and we call the folks with uniforms 'public safety'. I have only had one odd encounter with any of the NAPS, once I pulled up and jumped out of my truck too fast to ask the dog catcher a question about my wife's missing fluffy dog – he was jumpy. I want peace officers and public safety here! – we are good here thank you.
I hear talk again now of the Merriweather monument and Hamburg. I wrote about that last year. I see what people are saying online now. Most, almost all, are getting it wrong. The entire issue was complex, much of what went into making the situation so volatile in the first place was the actions of others that did not even live here, people that wanted to use political power for profit. There was some manipulation and using of people going on. All of the events that happened were tragic, some wrong on both sides occurred. A more complete and balanced version of the story that covers all sides needs to be told publicly.
Complex issues are never settled well in a rush or through emotions
We don't need to tear stuff down to represent history – it is better to ADD to rather than tear down. We should put up another monument that reflects the whole story and the complexity of it – let the old one stand to be a lesson of how wrong it is to tell half a story. It is not hard folks, we don't have to act like a bunch of Jacobites to make things right – we are not like other places.
I hope my walk next year is just a pleasant as the one today!